Last Updated on March 14, 2021 by admin
As a vegan, you have to ensure everything you put into your body meets your dietary restrictions, including condiments. You may not have stopped to think about which condiments are vegan, but now you're curious. Of all the ketchup brands, which ones have vegan ingredients?
The following brands of ketchup are exclusively vegan:
Westbrae Natural Organic Unsweetened Ketchup
Annie's Organic Ketchup
Heinz Organic Ketchup
In this article, we will talk more about those three brands. We'll also get into the ingredients of ketchup, explaining why some brands are vegan and others are not. If you want to know how to make your own ketchup, we'll have a section on that too, so keep reading!
Which Ketchup Brands Are Vegan?
The following three brands of vegan ketchup are all worth adding to your grocery list the next time you need to do a condiment run.
Westbrae Natural Organic Unsweetened Ketchup
Westbrae is a company founded in 1970 that produces vegetarian and vegan foods. Besides ketchup, they also sell cookies, wafers, rice cakes, ramen, vegetables, pastas, soups, and beans. The founders, Kristen Brun and Bob Gerner, were doing organic long before it became mainstream.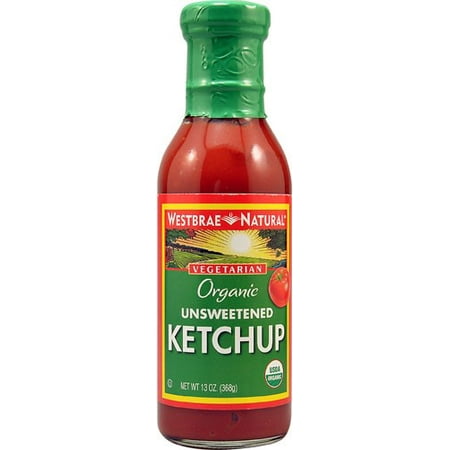 The brand's Natural Organic Unsweetened Ketchup also goes by the nickname UnKetchup. It contains the following ingredients: natural flavoring, spice, corn-sourced maltodextrin, onion, salt, apple cider vinegar, tomato paste made from natural tomatoes, and water.
For each tablespoon, you consume:
5 calories
0 grams of fat
0 milligrams of cholesterol
70 milligrams of sodium (three percent of your daily nutritional allowance)
1 gram of carbohydrates
less than 1 gram of sugar
0 grams of protein
Annie's Organic Ketchup
Annie's Homegrown is a brand that has been on vegetarian and vegans' radars for years. The company founder and namesake, Annie Withey, started the company in 1989 with the now-famous Annie's Mac and Cheese. You can also buy sauces, dressings, baking products, frozen foods, canned meals, soups, cereal, and snacks under the Annie's umbrella.
Their ketchup is made with all organic tomatoes from California. It's also gluten-free and non-GMO, and you won't find any high-fructose corn syrup, artificial preservatives, artificial colors, or artificial flavors. Instead, Annie's Organic Ketchup contains clove, allspice, dried onion, sea salt, distilled white vinegar, cane sugar, water, and organic tomato paste.
A tablespoon of the ketchup is 20 calories. Per serving, the ketchup contains:
0 grams of total fat
130 milligrams of sodium (six percent of your daily nutritional allowance)
5 grams of carbs (two percent of your daily nutritional allowance)
4 grams of sugar
3 grams of added sugars (seven percent of your daily nutritional allowance)
0 grams of protein
Heinz Organic Ketchup
Heinz is one of those companies that needs no introduction. They're arguably the most well-known ketchup brand around, found on grocery store shelves and in restaurants everywhere. Heinz has a very lengthy history as well, starting back in 1869 with Henry J. Heinz. Today, the brand sells mayochup (it's ketchup and mayo together), specialty sauces, baked beans, relish, vinegar, gravy, barbeque sauce, mayonnaise, and mustard as well as their beloved ketchup.
The organic variety is not the same as the classic, so keep your eyes peeled at the grocery store. This type of Heinz ketchup contains ingredients like natural flavoring, organic spice, organic onion powder, salt, organic cane sugar, organic distilled vinegar, and organic tomato concentrate.
Like Annie's ketchup, a tablespoon is 20 calories. That same serving also has:
0 grams of fat
0 milligrams of cholesterol
190 milligrams of sodium (eight percent of your daily nutritional allowance)
5 grams of carbohydrates (two percent of your daily nutritional allowance)
0 grams of dietary fiber
4 grams of sugar
0 grams of protein
What Makes Ketchup Vegan?
If you look at the ingredients list for the above three vegan ketchups, they're practically identical. Sure, there are some differences, but they're quite subtle. What is it that makes these ketchups vegan compared to others?
There is one ingredient contained in other ketchup brands that makes them iffy. This isn't dairy or animal products, per se, although it's an animal byproduct. That ingredient? It's bone char.
In case you're not familiar, bone char is a type of granular byproduct that's black, porous, and sourced from animal bones. Now, we should clarify something. Bone char itself is not present in your ketchup. You won't ever see it on the ingredient's list.
Instead, if your ketchup has sugar in it (and many do), it's possible the brown sugar or white sugar was made with bone char. The char is often used as part of the sugar bleaching process, and sometimes sugar gets filtered with bone char.
Very strict vegans may avoid refined sugars due to the potential of these containing bone char. Salt, oil, and sugar-free or SOS-free vegans also won't eat any sugar as part of their diet. For them, the only ketchups they would consume would be the three above, as these don't contain refined sugar and thus maybe bone char.
If you already eat refined sugar as a vegan, then you're not limited to the ketchup brands we talked about. You can eat any you want. After all, at the end of the day, ketchup is purely garlic, onion, flavorings, spices, salt, vinegar, sweetener, and tomato. It's mostly plant-based and thus a-okay for many vegans.
How to Make Your Own Vegan Ketchup
If you'd rather be safe than sorry, then you might decide you want to make your own ketchup. Now you can ensure it's totally vegan and meets all your qualifications. If that means omitting brown sugar or white sugar, you can.
Here are the ingredients you need to get started:
Whole clove (one)
Black pepper that's finely ground (1/4 teaspoon)
Mustard powder (1/8 teaspoon)
Celery salt (1/8 teaspoon)
Salt (1 ¾ teaspoons)
Garlic powder (1/2 teaspoon)
Onion powder (one teaspoon)
Distilled white vinegar (3/4 cup)
White sugar (2/3 cup)
Water (1/2 cup)
Tomatoes, peeled and ground (two, 28 ounces each)
Step 1: Take your tomatoes and dump them in your slow cooker. As they begin to get hot, add in some water, doing so ¼ cup at a time.
Step 2: Mix in the rest of your ingredients, such as the clove, cayenne pepper, black pepper, mustard powder, celery salt, regular salt, garlic powder, onion powder, vinegar, and sugar.
Step 3: Stir the ingredients together using a whisk.
Step 4: Set your slow cooker to its high cook setting and don't put a lid on it as the ketchup cooks.
Step 5: Let 10 to 12 hours pass, but make sure you're in the kitchen hourly stirring the mixture.
Step 6: If your ketchup is a little lumpy or unsmooth, 20 seconds in your immersion blender ought to solve that.
If you're following a SOS-free diet, you can use salt and sugar substitutes in this recipe.
Conclusion
Ketchup on its own is vegan unless you disallow animal char from your diet. Then, you'd have to avoid any ketchups with brown sugar or white sugar. Westbrae's Natural Organic Unsweetened Ketchup, Annie's Organic Ketchup, and Heinz's Organic Ketchup are three safe options without these sugars.
Of course, to dodge any unwanted ingredients, you can always make your own ketchup at home. It's easy and requires very few ingredients. While it takes hours to get the ketchup to just the right consistency, you essentially load all the ingredients in a slow cooker and let it do the work. You have to stir occasionally, but that's it.
We hope this post helped you keep your condiment consumption on track as a vegan. Good luck and happy snacking!