It's easy to make vegan food in the comfort of your own home using ingredients you bought at the grocery store. Going out to eat is a whole other ball game. Sometimes, you just want a quick meal like anyone else, but you can't help but feel like your options are limited. For instance, do any fast food chains serve exclusively vegan food?
As of this writing, there are no fast food chains that serve only vegan food. The closest thing is the vegetarian menu at Taco Bell, but they still do of course provide meat to non-vegan customers. However, at many of your favorite fast food franchises, you can order vegan menu items. These include:
Vegan sliders at White Castle
Plain baked potato at Wendy's
Fresco style anything on the vegetarian menu at Taco Bell
Veggie burger at In-N-Out Burger
The Beyond Burger or the Impossible Burger at Bareburger
The Plant Powered Vegan Bowl at Chipotle
The Beyond Famous Star Burger at Hardee's and Carl's Jr.
The Impossible Whopper, Dutch apple pie, and French toast sticks at Burger King
Most pretzels at Auntie Anne's when you omit the butter
Beyond Avocado tacos or Beyond Meat tacos at Del Taco
In this article, we will expand on the above menu items, some of which are secret. We'll tell you how the food is vegan and exactly what to order. This way, the next time you stroll into one of these restaurants, you can feel confident you'll stick to your diet and still enjoy a yummy meal.
Vegan Options Available at Your Favorite Fast Food Restaurants
At White Castle, Ask for Vegan Sliders
White Castle is a fast food restaurant known for its addictive little sliders. These mini burgers are often made with meat, but it doesn't always have to be that way. If you ask for a vegan slider, White Castle will use Impossible burger meat. This patty is sourced from plants instead of beef but tastes like a real, juicy burger. Impossible burgers have caught on in a big way, including at White Castle.
While you're there, you can always mix it up and get the Veggie Sliders, which have vegetables for the patties instead of meat. The fast food chain's applesauce and fries meet vegan guidelines as well.
At Wendy's, Order the Plain Baked Potato
Admittedly, there's not a lot you can get off the Wendy's menu that's vegan. Well, unless you want a salad. Sure, the fries are quite yummy, but they're not super filling. A plain baked potato will stop your stomach from grumbling and has no meat, of course. Top it with whatever you like, even doing so at home if you're not a fan of Wendy's condiment options.
At Taco Bell, Get Anything off the Vegetarian Menu in Fresco Style
As we said in the intro, Taco Bell is one of the better-known chains to offer a vegetarian menu. They still serve meat products, though, so they're not 100 percent vegetarian, nor are they completely vegan.
That said, you'll find the vegetarian menu a safe place to start if you're having Taco Bell for lunch or dinner. Make sure you mention you want your meal Fresco style to remove any vestiges of dairy. All sour cream, ranch sauce, and cheese get omitted from your meal, with pico de gallo substituted in. Also, your tacos are bean-based rather than meat-based.  Feel free to order the Mexican rice, cinnamon twists, or chips to augment your meal as well.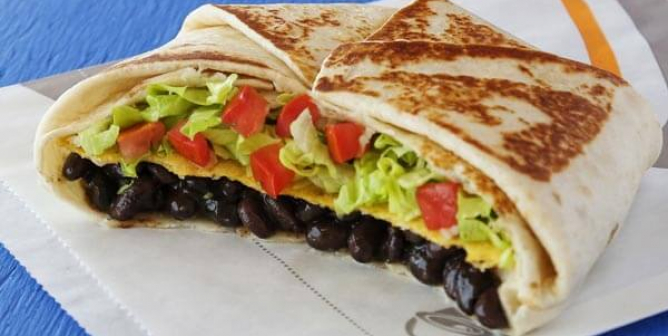 At In-N-Out Burger, Order the Veggie Burger
In-N-Out Burger has become known for its secret menu items, and their veggie burger is no exception. When you get to the front to place your order, say you want a sandwich without cheese, a spread, or a patty but make sure to include the grilled onions. What you get is a handheld sandwich with a vegan bun, lots of onions, a tomato, and lettuce. Tasty!
At Bareburger, Order the Beyond Burger or the Impossible Burger
If you haven't heard of Bareburger, you will soon enough. They're taking a more mindful approach to fast food, but they do still currently offer meat items on their menu. However, they're big proponents of the Impossible burger as well as the Beyond burger. In case you haven't heard of the Beyond burger, it's another plant-based beef substitute that's vegan but has the flavor and texture of meat.
You will have to forego cheese if you're ordering the Impossible burger, but not on the Beyond burger, which has no cheese. You can also nosh on Bareburger's Napa slaw, their dill and sweet pickles, their fries (including sweet fries), lots of salads, a collard green sweet potato wrap called the Farmstead, Beyond Sausage, and the Guadalupe and Thai Chia veggie burgers.
At Chipotle, Order the Plant Powered Vegan Bowl
You have the freedom to customize almost any taco, salad, burrito, and bowl at Chipotle so it fits your diet. If you need something fast, the Plant Powered Vegan Bowl will satisfy. It's loaded with shredded lettuce, corn and tomato salsas, black beans, a braised tofu with spice known as sofritas, and rice.
At Hardee's or Carl's Jr, Order the Beyond Famous Star Burger
Although you would think you couldn't set foot in a Hardee's or Carl's Jr. as a vegan, that's not the case. Their Beyond Famous Star Burger uses Beyond burger meat. Just make sure to omit the cheese and the mayo as you place your order. This burger joint's hashbrown nuggets, hash rounds, CrissCut fries, and regular fries are all fine for you to eat as well.
At Burger King, Order the French Toast Sticks, Dutch Apple Pie, or Impossible Whopper
The Dutch apple pie at Burger King, besides being delicious, is also vegan. Their Impossible Whopper keeps all meat out of the equation, as do their fries. If you happen to roll through Burger King for breakfast, then get the French toast sticks, a safe bet for vegans.
At Auntie Anne's, Ask for Your Pretzel without Butter
Although you might not have guessed it, you can eat most pretzels at Auntie Anne's as a vegan. These include the raisin, jalapeno, garlic, sweet almond, cinnamon sugar, and original varieties. You must get them without the butter, though. Yes, that means the staff will have to make them fresh, but that's okay.
At Del Taco, Order the Beyond Meat Tacos or the Beyond Avocado Tacos
If you like Del Taco, don't worry, as you're not left out in the cold. They too have made the move to adding Beyond meat to their menu in the form of two tacos. The Beyond Meat taco is crunchy and satisfying while the Beyond Avocado taco has creamy avocado, finely chopped tomatoes, lettuce, and crumbles of vegan "beef." It's beef in name only.
For other vegan menu items you might try, gravitate towards the Avocado Veggie Bowl, the hash brown sticks, and Del Taco's fries.
What about Chains Like McDonald's or Starbucks? Do You Have Any Vegan Options There?
When you think of fast food, McDonald's probably comes to mind first, right? If not first, then right up there at the top. Still, they're not on this list. Do they not have anything vegan on their menu?
As of this writing, no, they don't. Burger King only just started with their Impossible Whopper this month, and lots of other competitors have followed suit. According to this article in Inc., Mickey D's is trying to roll out their own Impossible burgers. That said, you might not see them on the menu until 2020 or even 2021.
What about everyone's favorite coffee place, Starbucks? Certainly! Here are some drinks to order the next time you need a caffeine fix that's still totally vegan:
Starbucks Almond Milk Frappuccino
Very Berry Hibiscus Refresher
Coconut milk, almond milk, or soymilk latte
Iced Matcha Green Tea Latte
Violet Drink
Americano
Nitro Cold Brew
The sprouted, cinnamon raisin, and plain bagels at Starbucks are also vegan. Who knew?
Conclusion
While we still have yet to see an entirely vegan fast food restaurant, lots of chains have decided to incorporate Impossible and Beyond burgers to their menus. If you don't want these meatless patties, you can always customize a slew of items like tacos, soft pretzels, and more to be vegan. Happy snacking!